The Terror: Erberth Santos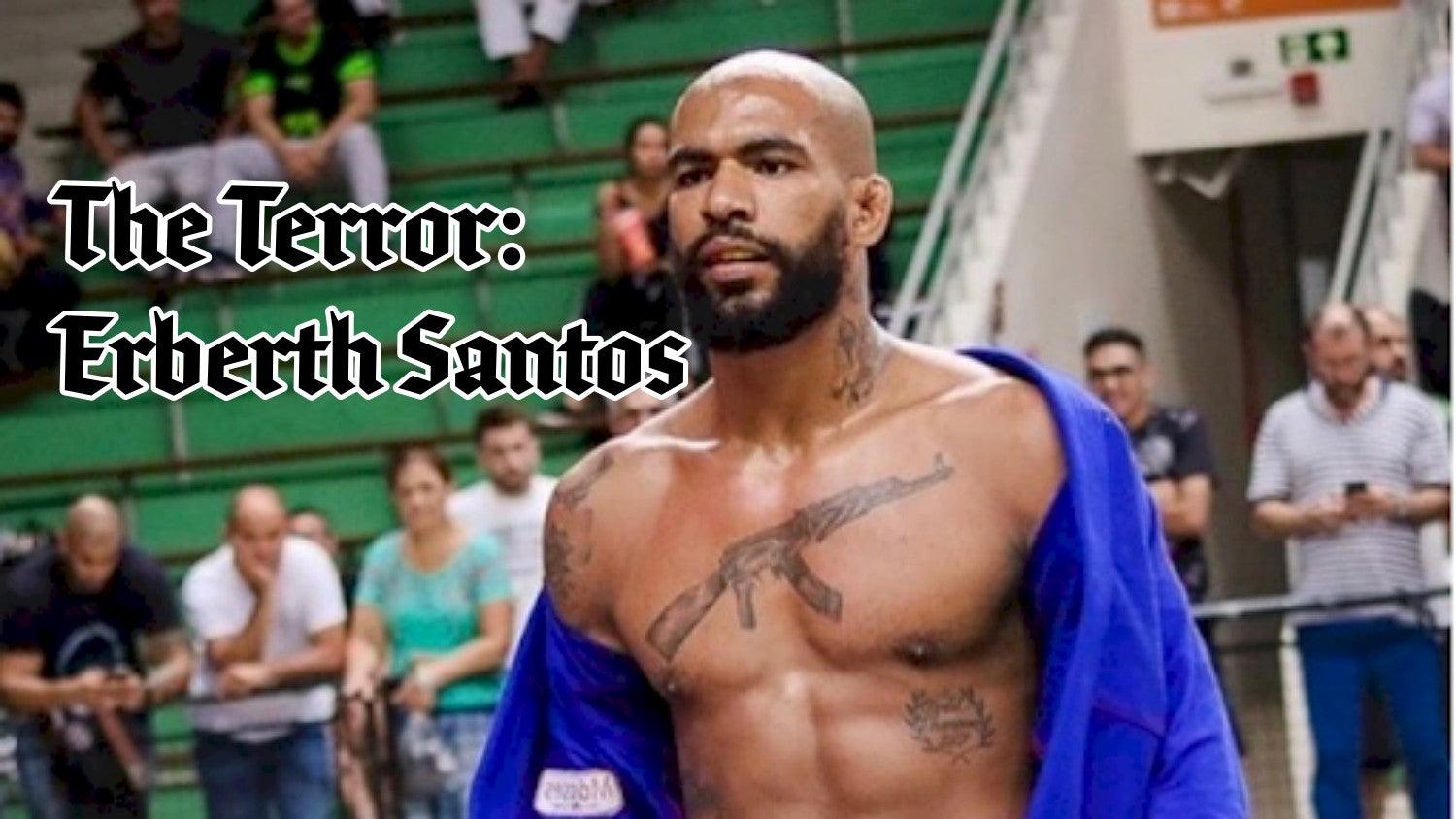 Nothing quite captures the imagination like a dominant force. While the footwork of Benny Leonard dazzles, the control of Demian Maia amazes, and the heart of Arturo Gatti inspires, there is something about an athlete that seemingly spits in the face of the laws of nature that enchants.
Watching experts in any form of combat effortlessly torn to shreds in ways that make their years or even decades of experience seem utterly futile by a singular unrelenting force has time after time seized the attention of both the most jaded and casual fans.
It is by no coincidence that both explosions in MMA's popularity into the mainstream can be directly tied to the introduction of dominant physical forces in both Conor McGregor and "The Beast Incarnate" Brock Lesnar.
August 9, 2008

UFC 87

Lesnar rebounds by dominating Heath Herring. pic.twitter.com/qDnCOV6ClJ

— Ocelot MMA (@Ocelot_MMA) May 31, 2023
A STANDOUT AMONG JIU JITSU WORLD CHAMPIONS
While grappling, especially in the gi, is not as dynamic as striking or even MMA, there was one man that electrified even the most educated of audiences.
Brazilian Jiu Jitsu has been home to many physical specimens over the years, most notably 10x World Champion and current ONE FC standout Marcus "Buchecha" Almedia, but none have ever matched the pure ferocity of the man with the AK-47 tattooed across his chest.
I love Meregali but ATOS Erberth is the most entertaining gi grappler of all time pic.twitter.com/wT73NMDRGy

— Leo Santos Stan (@gioiaplata) April 25, 2023
ERBERTH SANTOS: BEFORE HE WAS "THE TERROR"
Born in the favelas of Brazil, Erberth Santos quickly gained a reputation as a fearsome grappler and as an eclectic student, dominating local and regional competitors while being expelled from multiple academies for incidents outside of the gym. Despite defeating multiple acclaimed black belts at the color belt level, Erberth's behavior caused him to become something of a ronin, traveling from school to school. It was not until he teamed up with Andre Galvao's legendary ATOS teams that we were able to see the full potential of "Dino".
At his peak Erberth Santos had a combination of power, speed, and agility that was borderline unimaginable. He routinely bent the laws of physics to his will in a way that made physical freaks look like mere children in his presents. Despite his long lean frame, Erberth possessed freakish strength that sent powerhouses such as Mahmed Aly, Jackson Souza, and Gutemberg Pereria flying.
Nobody moved like Erberth just ran through heavyweights like they were nothing. pic.twitter.com/nq1Fq4ZjH4

— Leo Santos Stan (@gioiaplata) April 25, 2023
Opponents had no choice but to face this dynamism head on from the very onset as Erberth possessed a wicked 1-2 punch that flattened even his toughest opponents. At the start of each match, Erberth would look to off balance and even knockdown his opponents utilizing the oft overlooked footsweep, which he used to control the great Bernardo Faria. 
Not even Bernardo Faria was safe pic.twitter.com/SZhArUx1Ys

— Leo Santos Stan (@gioiaplata) April 25, 2023
The inside foot sweep was the catalyst for his signature throw, the modified drop seoi nage.  The modified drop seoi nage has been the primary go to throw for jiu jitsu powerhouses such as Ronaldo "Jacare" Souza and Rodolfo Viera as it acts as a gi version of the power snap down.  Using the inside foot sweep, Erberth was able to clear the inside space between him and his opponent, often forcing his opponents to square up, giving him the perfect opportunity to showcase one of the most devastating throws in combat sports.
This man was crazy. pic.twitter.com/YDz6F6stwN

— Leo Santos Stan (@gioiaplata) April 25, 2023
If his opponent did not go down initially, Erberth would often leverage his superior athletic ability to launch into flying attacks. Most notably his flying triangle.
Just a menace pic.twitter.com/c702Itl4w6

— Leo Santos Stan (@gioiaplata) April 25, 2023
Erberth's unreal dynamism was not limited to the feet as once the fight hit the mat, there was no telling what Erberth might do to pass your guard. An expert at blitz passing, Erberth capitalized on any small opening, whether it be by exposing your waist line or simply being too quick to allow his opponents to react to his various passing sequences, Erberth would take advantage in ways that went against any and all concept of how a human body should be capable of moving.
May 2, 2023
Erberth did not even have to be in your guard to pass it as he was just as willing to jump over it entirely, whether that be from a supine position or even a guard pull.
INSANE pic.twitter.com/XCbdX6KlnD

— Leo Santos Stan (@gioiaplata) April 25, 2023
However, as crazy as it may seem, the most terrifying part of facing Erberth Santos was not the bone crunching throws or the humiliating passing sequences. It was his crippling 50-50 guard. 
A compilation of Erberth Santos leg locks. Proving leg attacks are more entertaining in ibjjf. pic.twitter.com/tKAGlPAQ4i

— Leo Santos Stan (@gioiaplata) June 8, 2023
While most athletes have used the 50-50 position to stall and prevent action in recent years, Erberth realized the full, incredibly violent potential that lay in wait. Whenever he met an opponent who could at least somewhat slow down the physical specimen that was "Dino", Erberth would slide into 50-50 and attempt to remove their lower limb. Victims of this tactic included "The Hulk" Lucas Barbosa and the Pound-4-Pound best grappler in the world today Nicholas Meregali.
This one goes out to all my leg lockers (@shereaps) treating Hulk barbosa like a child pic.twitter.com/WsAoIGQnBi

— Leo Santos Stan (@gioiaplata) April 27, 2023
He knee barred Meregali at brown belt effortlessly https://t.co/ivktWk7XJ5 pic.twitter.com/nbHDrWWD6Z

— Leo Santos Stan (@gioiaplata) April 25, 2023
One by one, the best grapplers felt the wrath of Erberth Santos. Even in defeat Erberth made his presence felt in every single match. After his dominant performance against Mahmed Aly to win gold at the 2017 IBJJF World Championships, it felt as if the grappling world was at Erberth's mercy.
THE FALL OF "THE TERROR" ERBERTH SANTOS
Yet as fate would have it, that would be the last great moment in the career of Erberth Santos. What has transpired in the past few years has been nothing short of disappointing. The athlete who used to shock us with his athletic gift and magnificent matches, such as his legendary Copa Podio contest with the always dangerous John Combs, has since shocked us in a completely different manner.
Nothing like Copa Podio pic.twitter.com/TXiTLbWzEs

— Leo Santos Stan (@gioiaplata) April 27, 2023
Whether it was his bizarre match with Felipe Pena at BJJ Stars where he allegedly faked a knee injury before diving into a crowd not one but two separate times to brawl, an incident with Nicholas Meregali where he refused to fight after a call did not go his way, or even when he seemingly soiled his pants before he even got on the mat.
The worst part about all of the these incidents is that he has still shown flashes of the greatness that is inside of him as he has routinely won many of the IBJJF Opens that run in Brazil over the past few years. Yet whenever Erberth ventures onto a larger stage he seemingly mentally crumbles under the immense pressure.
Lao Tzu once stated, "The flame that burns twice as bright burns half as long."
No one in the sport of Brazilian Jiu Jitsu has ever shown as brightly as Erberth Santos. Between his breathtaking power, awe-inspiring acrobatics, and his generally dismissive demeanor, Erberth was a whirlwind that enthralled the most casual grappling fan and maddened the most diehard grappling fanatic.
For two years, Erberth Santos had the grappling world at his mercy in a manner not seen since Fernando "Terere'' Augusto, and unfortunately like Terere his prime was cut excruciatingly short by his own decisions. Yet, his place in grappling lore will never be forgotten. The ultimate boogeyman that struck fear in the hearts of even the most hardened grappler, an icon that will never be duplicated, our very own "Beast Incarnate".
---