Men's Fall Fashion: The Ultimate Guide to Workout Clothes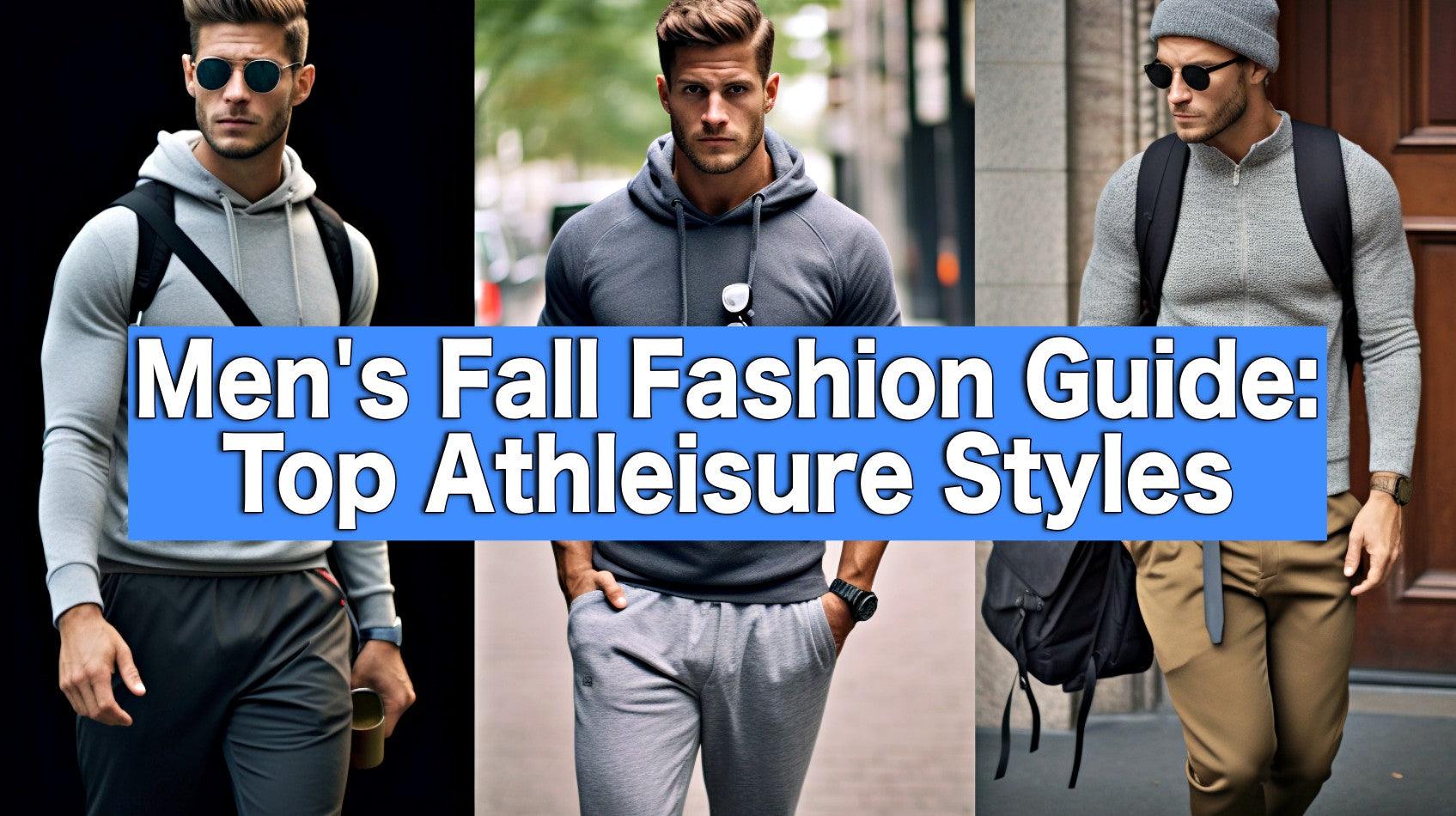 Men's Fall Fashion: The Ultimate Guide to Workout Clothes
With the fall season approaching, it's time to update your workout wardrobe with the latest trends and styles. Whether you're hitting the gym or exploring outdoor activities, having the right workout clothes is essential for both comfort and performance. In this ultimate guide, we will explore everything you need to know about men's fall fashion in workout clothes, from choosing the right apparel to caring for them.
Choosing the Right Workout Apparel
When it comes to selecting workout apparel, there are a few key factors to consider. First and foremost, think about the type of exercise you'll be engaging in. Are you primarily focused on weightlifting, cardio, or outdoor activities? Different workouts call for different types of clothing.
For weightlifting and strength training, opt for fitted tops and shorts or pants with good flexibility. Look for sweat-wicking materials that will keep you dry and comfortable during intense sessions. Compression shirts are also a popular choice for added support and muscle recovery.
If you're more inclined towards cardio exercises, such as running or cycling, prioritize lightweight and breathable fabrics. Consider wearing moisture-wicking shirts and shorts that will keep you cool and dry. Look for apparel with reflective detailing for added visibility during early morning or evening workouts.
Outdoor activities like hiking or trail running require clothing that can withstand various weather conditions. Invest in moisture-wicking base layers, thermal jackets, and water-resistant pants to ensure protection from the elements. Don't forget to consider accessories like hats and gloves for added warmth and functionality.
The Importance of A Proper Fit
While choosing the right workout apparel is essential, ensuring a proper fit is equally important. Ill-fitting clothes can restrict movement, cause discomfort, and even lead to injuries. Follow these guidelines to ensure the perfect fit:
Tops: Opt for shirts that allow for free movement of your arms and shoulders. Avoid excessively tight or baggy tops that may hinder your range of motion. Look for fitted or semi-fitted options that provide a comfortable yet streamlined fit.
Bottoms: Whether you prefer shorts or pants, choose options that allow for a full range of motion without being too loose or restrictive. Ensure that the waistband sits comfortably on your hips without digging into your skin.
Length: Consider the length of your bottoms based on personal preference and the style of exercise you'll be doing. For example, shorter shorts might be suitable for running, while Jogger Pants or leggings may be more appropriate for yoga or colder weather activities.
Shoes: Invest in high-quality athletic shoes that are specifically designed for your chosen activity. Consider factors such as arch support, cushioning, and traction to ensure a comfortable and safe workout experience.
Materials and Technology in Workout Clothes
Advancements in fabric technology have revolutionized workout apparel, providing enhanced performance and comfort. Here are some popular materials and technologies to look out for:
Moisture-Wicking Fabrics: Sweat-wicking fabrics help keep you dry and comfortable during intense workouts by pulling moisture away from the skin. Look for materials like polyester or nylon blends that offer quick-drying properties.
Breathable Mesh Panels: Many workout clothes feature strategically placed mesh panels that allow for better airflow, keeping you cool and reducing sweat buildup in high-heat areas. These panels can be found in areas such as the back, underarms, or sides of tops and shorts.
Stretch and Flexibility: Opt for clothes with a good amount of stretch and flexibility. Look for materials like spandex or elastane that provide a comfortable fit while allowing a wide range of motion.
Anti-Odor Technology: Some workout apparel incorporates anti-odor technology that helps resist the growth of bacteria and keeps your clothes fresher for longer. This is particularly beneficial during longer workouts or activities where you may be sweating profusely.
New Popular Fall Style Trends for Strong Men
Staying on top of the latest trends in men's workout fashion can be exciting and motivating. Here are some of the trendiest styles for fall:
Earthy Tones: Embrace the spirit of fall with workout clothes in earthy tones like olive green, burnt orange, and deep brown. These colors can be incorporated into your tops, bottoms, and even accessories for a stylish look.
Two-Toned Designs: Opt for workout clothes with two-toned designs, combining contrasting colors to create a modern and dynamic look. This trend can be seen in tops, shorts, and even shoes.
Bold Patterns: Don't be afraid to stand out with bold patterned workout clothes. From camouflage prints to geometric shapes, incorporating eye-catching patterns into your wardrobe can add a sense of style and flair to your workouts.
Layering: As the temperature drops, layering becomes essential. Experiment with layering different pieces like lightweight jackets, sleeveless hoodies, and vests to create stylish and functional workout outfits.
Retro Vibes: Embrace the nostalgia of the '80s and '90s with retro-inspired workout clothes. Vintage logos, bold color blocking, and retro silhouettes are all on-trend options to elevate your workout style.
Caring for Your Fall Workout Clothes
To prolong the lifespan of your workout clothes and maintain their performance, it's essential to care for them properly. Here are some tips to keep your workout apparel in top condition:
Follow Washing Instructions: Always check the care label on your clothing for specific washing instructions. In general, it's best to wash workout clothes in cold water with a mild detergent. Avoid using fabric softeners as they can reduce moisture-wicking properties.
Air Dry: Instead of using a dryer, air dry your workout clothes whenever possible. High heat can damage the fabric and elastic in your apparel, leading to shrinkage and reduced performance.
Separate Colors: To prevent color bleeding and fading, separate your workout clothes by color before washing. This will help maintain the vibrancy of your apparel for longer.
Avoid Rough Surfaces: When wearing or washing your workout clothes, avoid rough surfaces that could cause pilling or snagging. Opt for workout environments with smooth and clean surfaces to protect the integrity of your clothing.
With the ultimate guide to men's fall fashion in workout clothes, you're now well-equipped to upgrade your wardrobe for the upcoming season. Remember to prioritize comfort, functionality, and style when selecting your workout apparel, and always care for them properly to maximize their lifespan. So gear up, hit the gym or embrace outdoor adventures, and rock your fall workouts in style!
Look Good Feel GREAT In A New Sleeveless Hoodie This Fall
Elevate your workout style with the Sleeveless Hoodies from King Killers Apparel. These sleeveless hoodies are not only trendy, but they also provide the perfect balance of comfort and functionality. Whether you're hitting the weights or going for a jog, the Sleeveless Hoodie is a versatile piece that will keep you looking and feeling great. Don't miss out - shop the latest men's fall fashion trends in workout clothes at King Killers Apparel.
| | | |
| --- | --- | --- |
| CAMO KILLER - Woodland Camouflage Sleeveless Hoodie | King Killers Black Jogger Sweatpants | Muay Thai Fighter Sleeveless Hoodie |
| USD 54.99 | USD 44.99 | USD 54.99 |
| View Product | View Product | View Product |
---